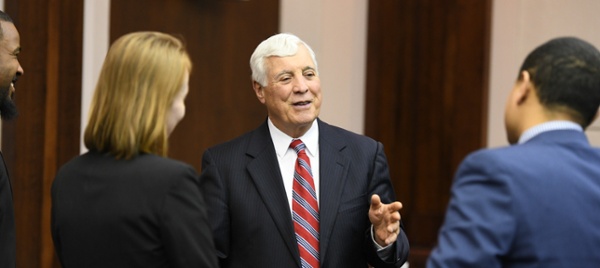 The Denis F. McLaughlin Advanced Trial & Advocacy Workshop is a must have experience for any student aspiring to be a trial lawyer. This intensive two-week winter course promised to further develop skills learned in Persuasion and Advocacy but ended up delivering much more. We had opportunities not only to repeatedly practice each segment of a trial, but to receive insightful feedback from at least three highly successful attorneys after each exercise.
The course began with refreshers on direct and cross examination. The familiar reminders not to lead witnesses on direct and to ask closed questions on cross came early in the day, but by the afternoon we were masterfully steering witnesses from point to point. Each participant conducted at least three direct and three cross examinations and received specific and constructive feedback after each one.
Throughout the first week, we also attended several workshops in which we reviewed the various types of foundation necessary to introduce exhibits into evidence, learned how to introduce illustrative aids, and explored when and how to object at trial. It turns out that when to object may not be obvious, even to a master of the rules of evidence, as discretion is key. We quickly learned that a balance between the juggernaut objector and the silent arbiter is needed in order to keep our adversaries on their toes without losing the trust of the jury.
We also practiced and analyzed opening statements. Listening to the wide array of different styles utilized by my classmates was eye opening. It was incredible to see the many ways an effective opening statement could be delivered.
The end of the first week involved intensive exercises in cross examining expert witnesses. We learned a valuable lesson: not every cross examination requires hostility. In one exercise, we cross examined a treating physician who was delighted to give us helpful facts to mitigate damages, as the plaintiff had healed wonderfully under his expert care.
In the second week, we reviewed witness impeachment as well as the difference between refreshing recollection and past recollection recorded. Many of us heard Professor McLaughlin's Evidence lecture resounding in our heads as we were quickly reminded that a past recollection recorded can only be read into evidence, not entered! After reviewing closing arguments and enjoying a seminar on jury instructions and voir dire, we received the facts and were assigned sides for trial. The case was a wrongful death suit turning on products liability and comparative fault. We spent the following two days in meetings with our faculty coaches strategizing and preparing our two witnesses.
The course culminated in a full trial before a sitting United States District Court Judge and a jury of my peers. My team received incredibly valuable feedback directly from the judge and jury as to what was effective and what we could improve on. The three hours went by in a blink, and before we knew it, the course had concluded.
The sheer volume of feedback and time spent on our feet throughout the course will undoubtedly pay dividends to each of us as we begin our careers. I am so thankful to have had the opportunity to be among those in the inaugural class of this workshop, and hope that it will continue for many years to come.