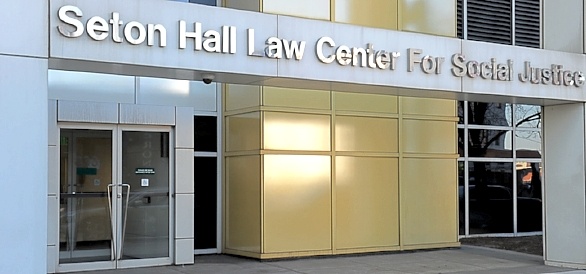 In 1963, Martin Luther King, Jr. wrote a public letter while he was imprisoned in Birmingham jail. In it, he said, "Injustice anywhere is a threat to justice everywhere." Of course I'd heard this quote many times throughout my life, but I suppose in all honesty it affected me in the way most grandiose platitudes did: not much. We all innately feel that injustice cannot be tolerated, however, until injustice finds its way into our day-to-day lives, we are hard-pressed to find the motivation to take action, or the ability to comprehend what it truly means to face injustice.
In the Fall of my third year of law school, I participated in the Equal Justice Clinic, and under the supervision of Professor Jenny-Brooke Condon, chose to work on a federal class action lawsuit (Alves v. Main). The Seton Hall Center for Social Justice – Equal Justice Clinic, represents the "Class," comprised of over 400 civilly committed, formerly incarcerated, residents. The Alves litigation carried on for more than a decade until the court approved a Settlement Agreement, in 2012, which generally required the state to improve the quality and quantity of its mental health treatment program for the Class. The Settlement Agreement set out a five-year implementation period through which a court appointed "Monitor" inspects the facility annually, and makes findings of compliance or noncompliance for each area of the Settlement Agreement.
Throughout my semester working on Alves (which fell during the Monitor's third annual inspection), we were tasked with compiling factual and legal arguments to submit to the Monitor to identify what we believed were areas of noncompliance. We gained tremendous insight into the frustrations of compiling documentation to demonstrate our arguments, when review of all 470 residents' files would have been impossible. We also gained invaluable experience in drafting submissions, and communicating with opposing counsel and clients. However, I walked away from my experience in the Equal Justice Clinic with more than just new legal skills to add to my résumé.
After my first week working on Alves, something quickly became apparent to me: my friends and family questioned my representation of the residents. The same question lay just beneath the surface of most conversations I had: "Why are you helping them?" I was observing the same disconnect I felt with Martin Luther King, Jr.'s quote evidenced by those around me.
In society, (sometimes unconsciously) we label people in an effort to more easily describe them. Labels like: "She's a lawyer," "he's a teacher," "she's a marathon runner," are innocuous enough, as they describe the things we've done, and are likely proud of, to become the person we are today. But labels like "criminal," have a much more serious implication. Aside from drawing feelings of disconnect and disgust, in some people's eyes, it strips from the person the same rights that "teachers" or "lawyers" enjoy.
---
But if we allow constitutional corners to be cut for the least respected members of society, we open up the doors for our own constitutional rights to be violated.
---
There were, and arguably still are, many injustices happening in the implementation of civil commitment in the case I worked on, as well as many others. The Alves case, in its bare bones, is a case fighting for civil liberty. The thought of being indefinitely civilly committed without the protections of the criminal justice system is frightening, especially in the face of no clear path for being released. The "label" of the person whose rights are being violated is irrelevant. It is our duty to identify and correct injustices, or threats to justice everywhere will persist.