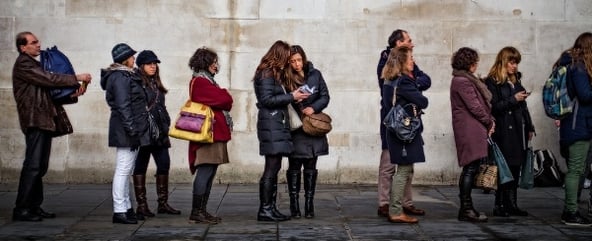 (Post updated September 14, 2023)
The Waiting is the Hardest Part
After all the hard work that goes into completing and submitting a law school application, it can be disappointing to find out that you have been waitlisted at one of your top choice schools. Being waitlisted can be particularly troubling for people used to being proactive, so we often get questions about the process moving forward. Here are some things to keep in mind:
How soon will I know if I'm admitted?
Unfortunately, there is no guaranteed timeline for if or when Admissions will turn to the waitlist. Realistically, though, it is unlikely that a school would begin looking at its waitlist before the first deposit deadline. Waitlist review can continue throughout the summer and into August. As you begin to finalize plans for the fall you should set a realistic deadline for the latest you would want to be notified that you were admitted off the law school waitlist. Communicate this deadline with Admissions (many schools, like Seton Hall Law, have a response form that you fill out after receiving your decision), and make sure to let the office know if that date changes for any reason.
What can I do to increase my chances of admission?
If you are waitlisted at a top choice school, sending a letter of continued interest is a good way to let Admissions know that you are serious about your interest in the school. You should also send in updated LSAT scores and transcripts if appropriate – especially if your LSAT score or GPA goes up. Also, keep your eyes peeled for Waitlist Information Sessions and other opportunities to interact with the Admissions team.
Will I get scholarship money?
Because you were not admitted outright, the odds of receiving merit scholarship money are lower and should not be an expectation, though you may qualify for other scholarships. If you are waitlisted at a top choice school, you should look at your budget to determine if taking out loans to cover the cost of attending that school is an option for you. Some schools may provide enough of a return on investment that loans are worth it. In other situations, you may have been admitted to other law schools that will set you up for success without having to take out as much in school loans.
Be memorable…but for the right reason.
When the time comes to review the law school waitlist, Admissions professionals will often advocate on behalf of the applicants they have gotten to know best. One thing you can do that will help your law school application during waitlist review is to be one of these memorable applicants.
Making a good impression starts early in the process – from your very first interaction with someone in Admissions, whether over the phone, via email, or at a fair. It should go without saying that your interactions with Admissions be polite and professional, but it is also important that you try to make a personal connection.
Meeting prospective students is one of the highlights of our jobs, but our favorite interactions are those that leave us with an understanding of the applicant's story. If we can picture you as a member of our student body, we are more likely to be persuasive on your behalf. So when you meet us, make sure to do more than just ask for statistics and information about our programs – tell us about you!
It is, of course, also possible to become a memorable applicant for all the wrong reasons. Calling and emailing every week or being unprofessional, rude, or deceitful to Admissions will make you memorable, but not in a way that will help when it comes to waitlist review (and it could get you released off the waitlist as a deny).
Ultimately, we know that choosing a law school is an important and emotional decision and we are here to be a resource as you work towards choosing a law school. As always, contact Admissions with any questions or concerns – we are here to help!
---
photo credit: garryknight Queue by a Wall via photopin (license)