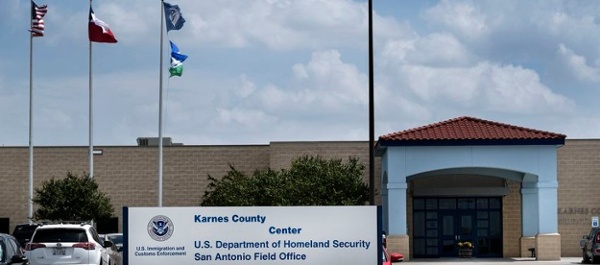 Attending law school gives individuals the opportunity to act selflessly and help others. Being a part of the Seton Hall Law School community and engaging with those in dire need of legal assistance is at the core of the Law School's mission. As a member of the Seton Hall Law community, I'm proud to have taken the opportunity to help families detained in Karnes, Texas during Spring Break.
With the guidance of Professor Susannah Volpe, my peers and I were able to volunteer alongside RAICES, a nonprofit that prides itself in ensuring due process to underserved immigrant children, families, and refugees throughout Texas. During our time with RAICES we assisted individuals who fled their native countries due to a genuine fear. This fear became the basis of their asylum claim. My peers and I - Zoila, Kemely, and Carola - worked long hours and met with numerous men and children and found tremendous value in engaging with them. From both the individuals detained and my peers, I grew a greater appreciation for the law. Both groups provided me with a different insight into the type of work lawyers are expected to engage in on a daily basis.
We all sought to provide the individuals detained in the detention center with the best assistance possible. It was an opportunity to witness the types of attorneys Seton Hall Law produces; individuals who are genuinely interested in the concept of serving others. Alongside my peers, I learned the value of legal representation and guidance when presenting an asylum claim which many individuals who fear returning to their country rely on to stay in America. I also learned of the importance of providing legal information to individuals being released so they would know how to maintain their legal status in America while their asylum cases are pending with the government.
While serving the individuals detained I came to appreciate how fortunate lawyers are to have an opportunity to serve others who rely on the education and skills of lawyers they may not have initially known. While in Karnes, individuals who were being detained placed their trust in RAICES and volunteers - my peers and I - to assist them. There is a level of faith entrusted in lawyers when they engage with clients that should be respected and appreciated. After my experience in Karnes I can't help but feel a responsibility, even more so than I previously did, to always be the most prepared attorney in the room.
From my peers I learned the importance of developing and strengthening soft skills. Watching my peers interact with the different clients and seeing how important small interactions can be to create a more positive experience for the client enhanced my understanding of the legal profession as a "people profession." From each of my peers I learned something of value. Zoila excelled at putting clients at ease so they would share their stories. Kemely facilitated conversation with a smile even in the most unfortunate circumstances. Carola had endless patience and attention to detail throughout the longest of days. These skills are being developed and enhanced with our Seton Hall Law education. I could not be more proud to be among individuals such as Zoila, Kemely and Carola as we pursue our legal education. And I could not be more thankful to Seton Hall Law for allowing me to be a part of such an incredible learning opportunity where I was able to engage with a community in need of attention and legal assistance.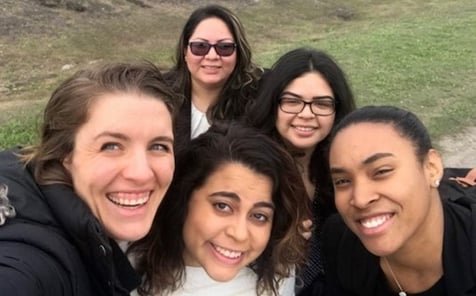 Professor Volpe (left) and students traveling to Karnes for Spring Break.