If you are a veteran who is thinking of submitting a law school application, you may be eligible to use your veterans education benefits to help pay for your tuition and other qualified expenses. In some cases, veteran's benefits will cover the entire amount of tuition and fees. Below, I address the answers to the most commonly asked questions.
What types of benefits are available?
The most widely used education benefits for veterans at this time are the Post 9/11 GI Bill® and the Yellow Ribbon Program.
The Post 9/11 GI Bill (Chapter 33) will provide a tuition and fee payment that is paid to the school (up to $22,805.34 for 2017-18), a monthly housing allowance, and a books and supplies stipend of up to $1,000 per year. You may be eligible if you served at least 90 aggregate days on active duty after September 10, 2001. You will be eligible for 100% of the maximum benefit payable if you served for at least 36 months. You may also be able to transfer your unused Post 9/11 GI Bill benefits to your spouse or dependent children.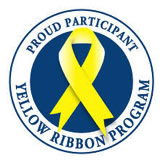 The Yellow Ribbon program provides additional support to cover tuition and fee expenses in excess of the Post 9/11 GI Bill. The veteran must be eligible at the maximum rate (100%) for the Post 9/11 GI Bill (as determined by the VA). Schools enter into an agreement with the VA, where the VA matches each dollar the institution agrees to contribute up to the total cost of the tuition and fees. At Seton Hall Law, there are an unlimited number of slots for the Yellow Ribbon Program, and between the VA funds and Seton Hall Law funds, we will cover the remaining balance of tuition and fees (not including health insurance).
Other VA programs include:
Vocational Rehabilitation and Employment (VR&E) benefits are available if you have a service-connected disability that limits your ability to work or prevents you from working.
The Montgomery GI Bill. Montgomery GI Bill Active Duty program is available to those that served at least 2 years on active duty. The Montgomery GI Bill Selected Reserve (MGIB-SR) program is available for members of the Army, Navy, Air Force, Marine Corps or Coast Guard Reserve, Army National Guard or Air National Guard.
Survivor's and Dependents' Assistance – provides education benefits or job training benefits to the dependents or spouse, or the surviving spouse or child of a veteran.
Tuition Assistance benefits are education benefits available to Service members on active duty. You may or may not be able to combine this program with other VA benefits.
How do I apply to use my benefits?
How long do I have to use my benefits?
The "Forever GI Bill" (August 2017) lifted a limitation that stated that veterans must use their benefits within 15 years from release of active duty. The 15-year limitation has been lifted for Veterans who left active duty on or after January 1, 2013. Generally, you may receive up to 36 months of entitlement under the Post 9/11 GI Bill.
Can I still receive financial aid?
Yes, veterans are eligible to receive financial aid even if they are using their veteran's education benefits. Visit the law school's financial aid website for more information.
You may also be interested to know whether the school you are applying to has an active veteran's association. At Seton Hall law, there is a Student Veterans Association that is recognized by the Student Bar Association. If you have additional questions, please leave them in the comments below or email me directly at karen.sokol@shu.edu.
GI Bill® is a registered trademark of the U.S. Department of Veterans Affairs (VA). More information about education benefits offered by VA is available at the official U.S. government Web site at https://www.benefits.va.gov/gibill
Post updated: 6/29/2018