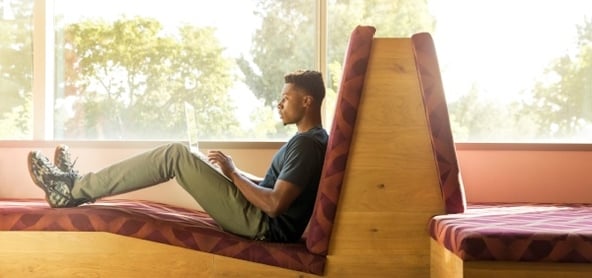 It is one of the most confounding issues facing many first-year law students. No, it is not the parol evidence rule or the rule against perpetuities. (Two bar admissions later, I still haven't mastered that one.) It is the first draft of a legal cover letter. Many students have had very limited experience in composing cover letters prior to law school. Add to that the fact that the legal cover letter, much like a legal resume, can vary greatly from that of different professions and industries.
What is the purpose of a cover letter?
A cover letter, in its most basic form, is essentially a writing sample. In fact, it is the first writing sample that employers will see when they review your application. If you are not able to cohesively string together your thoughts and advocate for your candidacy in a concise manner, many employers will not even get to that Lawyering memo that you worked so hard on editing and revising. After all, the duties of lawyers – writing, communicating, advocating, and ensuring precision in our work product – mirror the hallmarks of an effective cover letter.
In addition to serving as a de facto writing sample, a cover letter, is your opportunity to 1) convey that you have a genuine interest in the position sought, 2) draw employers' attention to your strongest selling points, and 3) explain how the experience detailed on your resume has relevance and transferability to the position. Your cover letter is your chance to elaborate on the credentials listed in your resume and connect the dots for the employer.
---
If your cover letter does not detail the specific combination of experience, achievements, and qualities that, in their totality, set you apart from other applicants, it is not serving its purpose.
---
What should be the end result of a cover letter?
An interview! Your goal in drafting your cover letter should be to intrigue the reader, capture his or her attention (in a positive way!), and make him or her want to learn more about you. It should persuade the recipient that your other application materials warrant further attention. That's not to say that a well-written cover letter can make up for all perceived shortcomings on the part of the applicant. If an employer requires a certain GPA, for instance, they probably will not contact a student with significantly lower grades simply because he or she has an exemplary cover letter. However, even if an applicant meets or exceeds all of an employer's hiring criteria, a poor cover letter can be a deal killer.
What are some common pitfalls in cover letter drafting?
Now that your objective in drafting a cover letter is clear, the question becomes how to effectuate this result. More specifically, what are some issues to be cognizant of when writing your letter and readying it for submission to an employer? Below are some common mistakes that our office encounters on a regular basis:
The "form" cover letter. Nothing more clearly signals to an experienced employer that you have no genuine interest in the position sought than a generic cover letter. If your cover letter is just as applicable to you as it is to the person who sits beside you in Civ Pro, it is generic. It is lacking any real substance and inadequately explains what you (and only you) have to offer. Oftentimes, this letter includes an abundance of adjectives, puffery, and buzzwords with nothing to substantiate it.
The "blatant error" cover letter. As a close second to the "form" cover letter, the "blatant error" cover letter is another sure-fire way to convey to an employer that you are only marginally interested in the position. From the employer's point of view, if you really wanted this position, wouldn't it make sense to thoroughly proofread your cover letter and make certain that it is free from obvious errors? This may seem obvious, but on a frequent basis, I receive cover letters from students that contain blatant errors. These letters are addressed to Firm A, but mention in the second paragraph that their experience makes them a great fit for Firm B. Or they misspell the name of the firm (which, admittedly, can sometimes be tricky). Or they conclude by saying that they hope to have the opportunity to bring their skills to the employer's firm this summer – only the letter is being sent to a judge. These types of cover letter "sins" are often unforgivable from the employer's perspective, so proofread your letter. Pay careful attention to names, spellings (especially of proper nouns, which you may ignore when using spellcheck), and employer-specific details.
The "it's all about me" cover letter. Every employer knows that the position you are seeking would benefit you - the purpose of your cover letter is to explain to the employer how you can benefit them. It is not to impart to them that this would be an ideal opportunity for you to gain experience, learn more about their area of law, or start out your legal career. While it is advisable to inform the employer that you have an interest in their practice area, this should be done in a way that makes clear that you have something to offer them – not simply that you are seeking this opportunity to further advance your goals.
How do I write my best cover letter?
There are three simple answers to this question:
1) Expend the time and effort necessary to write a cover letter that is uniquely fitting to you and appropriate for the position sought. If you invest time in writing a cover letter which is befitting of your noteworthy credentials, it will be time well spent. Most likely, the letter can be used for other applications (subject to the caveat above relative to changing the employer-specific details).
2) Use the resources available to you through Career Services. Your career counselor can assist you in adapting your letter to different positions, so if you are having difficulty in doing so, schedule an appointment to discuss the revisions and adjustments that will make your letter suitable for other opportunities.
3) Proofread your cover letter – and not just once. Ask a friend, family member, or classmate to read over your letter also; an extra set of eyes can sometimes do wonders.
By taking these measures, you can be confident that you have presented yourself favorably and have put forth as much effort as possible to secure an interview.