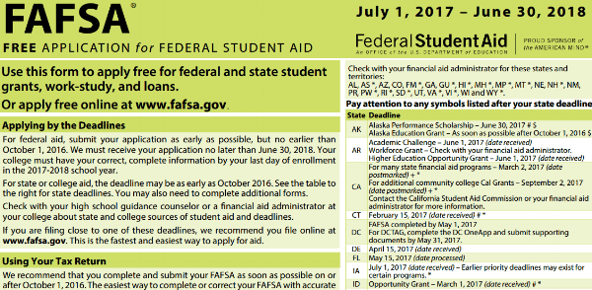 If you are researching financial aid for law school, you may know that the 2017-18 FAFSA is now available - 3 months earlier than in the past. Previously, the FAFSA was able to be completed any time after January 1, and this date has been moved up to October 1.

The 2017-18 FAFSA asks for 2015 federal income tax information – yes 2015. If you have applied for financial aid previously as an undergraduate, you may do a double take – isn't 2015 the same information that you put on the 2016-17 FAFSA? The answer is yes, as this is the transition year. Instead of the prior year, the FAFSA now collects Prior-Prior-Year, which financial aid offices call PPY.

While it may seem initially that this information is old, PPY makes it super easy to file, and allows you to complete the FAFSA sooner rather than later since you don't have to wait for your taxes to be done (another item to check off on your to do list). The other HUGE plus for using PPY is that there is the ability to click that you authorize your tax information to be pulled from the IRS database. This is called the IRS Data Retrieval Tool, and is available for most tax filers. Super easy.

Yes, you will still need to gather some information such as your driver's license number, and the current amount you have in savings and investments, but not having to input your tax information is a huge plus. Also, although not new, it's worth mentioning that graduate students are considered independent when you complete the FAFSA, so you will not report your parents' information.

So what does this mean for law students? Do you need to file the FAFSA now? The short answer is yes. If you are applying to law school for entry in the fall of 2017, you should file the FAFSA now, in the fall of 2016, even if you are unsure how you will be financing your degree. (Students applying to Seton Hall Law should complete the FAFSA prior to March 1, 2017, using our school code G09986). You do not need to be admitted to the school to put the school's code on the FAFSA.

The FAFSA must be completed annually for continuing students, so put the date on your calendar for the same time each year. Be sure to check each school's specific deadlines for completing the FAFSA and other documents that may be required. In this first year of transition, law schools may send award notices slightly earlier, but don't get nervous if you've completed the FAFSA early and haven't heard back from the Financial Aid Office. Many law school financial aid offices are gearing up for the new financial aid year and it won't be unusual if you don't hear from them until late March.

If you have any questions, we are happy to answer them and provide guidance along the way!