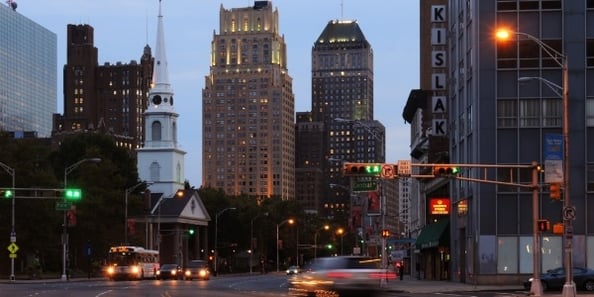 Attending law school is equally challenging and fulfilling. Speaking as a (very) recent alum of Seton Hall Law's evening program I understand the pressures and uncertainty that every student feels, especially in today's legal market.
There is always that nagging feeling you aren't doing quite enough to ensure the journey ends with whatever success you hope to achieve. These challenges are daunting enough to a full-time student whose primary responsibility is to go to class and do the reading. Evening students, like myself, feel the same anxiety; we just happen to have career or family obligations on top of it.
Whether you have always dreamed of going to law school, are thinking about a career change, or want a law degree to further your current career, there are benefits to going to law school part time. Obviously every law school is different, and I can only speak to my experience at Seton Hall, but I hope to alleviate any apprehension every prospective evening student has about navigating a part-time law school program.
Benefit #1: Your Classmates
The first, and probably most important benefit you will receive as an evening student, is the benefit of your fellow classmates. For those who are unfamiliar with the way law school works, every student is assigned to a section. At Seton Hall, evening students are placed in the same section and take all required courses together. These people become your best friends, and at times are the only ones you can lean on to get through the semester.
As an evening student, you and your fellow classmates bring diverse experiences and viewpoints to class discussions that ultimately help everyone understand the material. Contracts was a better experience because one of my classmates regularly dealt with the Uniform Commercial Code at her job, and Constitutional Law was much more interesting when the discussion included a registered lobbyist. This is unique to the evening program, and makes law school that much more fulfilling.
Benefit #2: The Luxury of Time
The second benefit the evening program offers is pace. No, I'm not talking about your daily pace juggling work, school, and family. That can, and inevitably at times will, feel overwhelming (see supra, your first benefit). I'm talking about the benefit of pacing your degree over four years instead of three, and using that to your advantage. For example, one of the more prestigious extra-curricular activities in law school is joining a law journal. To gain membership, students must participate in a writing competition graded by current journal members. The competition tests citing ability, legal reasoning, ability to form an argument, and attention to detail. Most full-time students participate in the competition after their first-year writing seminar, prior to receiving a final grade for that class. As evening students, we cannot participate in the competition until the end of our second year. I used this pace to my advantage, improved my writing, took an advanced legal writing course, and successfully competed in the competition.
Benefit #3: Exposure to the Law School Community
As I mentioned earlier, I can only only speak to my experience at Seton Hall Law. Consequently, the last benefit of the evening program is personal.
The evening program at Seton Hall is not the night shift; evening students are as much a part of the community as every student. As an evening student at Seton Hall Law, you have every opportunity to engage with faculty, administration, employers, and fellow students. The administration works every day to ensure your experience runs as smoothly as possible. The faculty have open-door policies and regularly meet with students to clarify difficult subjects. Employers regularly hold networking events at times convenient to every student. Moreover, every student, both evening and full-time, works as a collective unit pushing each other towards the finish line.
Yes, going to law school is equally challenging and fulfilling, and being an evening student is a unique balancing act. But you can also be certain that going to law school, especially Seton Hall's evening program, offers many benefits that will serve you during your tenure as a student and throughout your career.
photo credit: Newark, NJ via photopin (license)