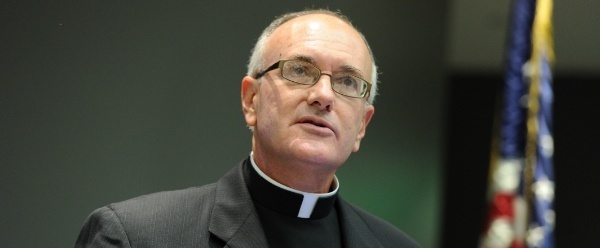 Just over twenty years ago, the Seton Hall family experienced an inconceivable tragedy as three freshmen students, Aaron Karol, John Giunta and Frank Caltabilota, lost their lives in an early morning fire in the North Boland dormitory. Members of the priest community decided then to divide ourselves among the three families, each of us accompanying one family during the days of mourning. I attended the Karol family.
As I was entering their parish church on the day of Aaron's funeral Mass, a woman approached and said she had a question. I smiled and offered my help. Before I realized what was happening, she had beckoned a camera crew that had been out of sight. Now I had a microphone in front of me and a T.V. camera filming (I don't think they were digital then) my response. The woman, a reporter from a New York station, asked, "Father, what are you saying to the family about how they can get beyond this great tragedy? How are you helping them move beyond their grief?"
Incredulous, and maybe slightly annoyed at the question and how I had been enlisted to answer it, I looked straight into the camera and asked in return, "Why are you so eager to move on? A terrible thing has just happened. Three very young men are now dead who held such promise in the eyes of their parents and others who loved them. Can't we linger and grieve for a while? Can't we sit with the sorrow and maybe learn something from it about this world, about ourselves in this world?" I never saw the piece on the evening news. Friends of mine did and let me know my comments were left pretty much intact. I was surprised that was the case.
This bit of personal recollection occurs to me today as I try to share something of my reaction to the current crisis affecting society and more particularly our Seton Hall Law School family, the COVID-19 pandemic. Since February 28, I have been part of the task force assembled by Dean Kathleen Boozang to plan and execute a response to the effects of the virus on normal law school operations. We have met, first in person and since early last week online, almost every day in what has been a remarkably creative and coordinated effort to care for every constituency of the law school, obviously with laser focus on our students.
For a time, circumstances changed so rapidly I felt I was reimagining the landscape every twenty-four hours. I felt disoriented. By now, the scene seems mostly set for the remainder of the semester. I finally feel in a position to communicate some thoughts in the hope they may resonate with members of our community in a helpful way.
Recalling my on-camera experience following the Boland Hall fire, allow me to suggest we not hurry past the opportunities of the moment. Of course COVID-19 is a serious matter. Yes, it has disrupted our lives and the lives of millions around us in ways just a few weeks ago unimaginable. Pandemics are for other places, not my home, after all. And for those who are actually ill or for those who, God forbid, have experienced the death of a loved one, perhaps the suffering already feels unbearable. But here's my question: What are we learning? What about life are we estimating differently? What am I seeing in myself that is usually obscured by the headlong blur of my daily routine? This is not business as usual. What's happening? What do the present conditions have to offer me? Even the young man who famously declared a few days ago, the coronavirus was not going to get in the way of his Spring break, has realized and publicly acknowledged his myopia.
I'm the Chaplain of the Seton Hall Law family, so I guess what I'm saying to all of our members affiliated with a religious tradition— Christianity, Judaism, Islam, Hinduism, Buddhism, and so on—what has your spirituality been beckoning you to heed about the meaning of life that maybe now in this moment of crisis you can perceive more clearly? And for our members not affiliated with a religious tradition, what are your sources of wisdom teaching you?
No doubt we will in time emerge from the bonds of COVID-19, as a local community and as a nation. We are right to yearn for recovery. But in the meantime for all of you and for myself, I wish for an expansion of mind, a deepening of heart and a lifting of spirit that will make us glad in the aftermath that we have not wasted a crisis.
Holding all of you, my Seton Hall Law family, close in prayer…Fr. Nick