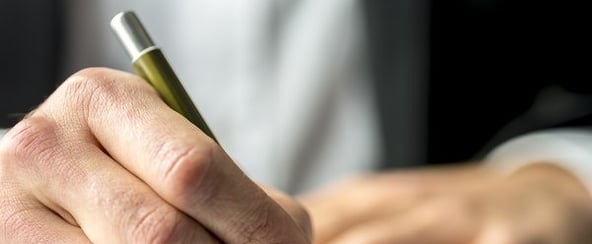 (Post updated September 26, 2019)
Now that you have written a superb personal statement, I want to focus on another aspect of your law school application – Letters of Recommendation (LOR) are another way that an otherwise average application may rise above the pack.
Although you do not have control over what your letter writer(s) may write, you certainly have control over the process. This includes ensuring that you select the individual(s) with the most relevant and positive things to say and that you provide them with the necessary information needed so that they can speak thoughtfully to your strengths and, if necessary, address any weaknesses your application may reveal.
It is important to note, that a good letter of recommendation starts with you setting the tone. Once you've made a decision on who you want to write your letter, it is important that you ask them if they can write you a GOOD letter of recommendation. I am always amazed at how many students leave this up to chance. As a result, I have seen many lack-luster letters that do not add value to an applicant's file at all.
It is also important to note that your relationship to the recommender matters more than the title that the recommender carries. So, make sure that your choice of recommenders 'makes sense'.
So, for example, if your personal statement discusses a professor who has been highly influential to you, ideally you would also have a law school letter of recommendation from that professor. And, in terms of addressing weaknesses, if your record illustrates academic struggles or nonacademic infractions, ideally we would see an LOR from someone who can address your persistence to improve or the corrective actions you have taken. These letters will add much more value to your file than a generic letter from a Senator, Congressman/woman or prominent business leader.
Law school is an academic experience, so for many schools (including Seton Hall Law School), the first and most important letter of recommendation for law school should be from a professor whose class you have taken. This is especially true for recent college or graduate school graduates.
If you are a few years beyond graduation and have not stayed in contact with and/or do not believe that a teacher would remember you sufficiently enough, then your first LOR should be from a current supervisor or other individual who can speak to your work ethic, character, and other traits that make you well suited for law school.
Other types of letters can be effective as well. In particular, letters from individuals you have worked with in volunteer pursuits and through social justice projects are often helpful. Even if these letters are peer (rather than supervisory) – they can be quite effective in further detailing positive personal qualities and characteristics. I have even seen letters from high school teachers and coaches that can be effective if the applicant has kept in contact through the years and if the applicant has remained community-minded.
Here are a few helpful hints to keep in mind:
Provide what is asked for – if a law school says it only wants two letters – it only wants two. All schools set a minimum and maximum number of letters through the LSAC Credential Assembly Service (CAS). These should not be seen as guidelines – they should be seen as rules. It is fine to send up to the maximum amount – but not more - and you will need to submit at least the minimum in order to have a "completed file" (ready for admissions evaluation). Seton Hall Law School requires one letter and allows up to three.


Give your letter writers sufficient time and information to provide you with the best possible recommendation. Set an appointment to meet with your letter writer and update him/her about what you've been doing since you last were in contact. This also gives you the opportunity to subtly remind the recommender of how terrific you are! The difference between a good and great letter is one that contains specific and concrete examples that back up an adjective or accolade. In person meetings are the best for this kind of thing, but the phone works also and an email updating the recommender on your recent activities is a final option.


Remember that these recommendations are meant for a professional school environment – these are NOT personal references. Letters from relatives are not appropriate.


Send law school specific (directed) LORs appropriately. If you are receiving a letter that is intended for a specific law school (i.e. Alumni LOR), be sure that you correctly identify the school(s) to which they should be sent in the CAS process. Alternatively, you can have school-specific LORs sent directly from the recommender to the appropriate law school admissions office.


Follow up with your recommender(s) with a thank you note. You will know that the letter has been added to your CAS file by monitoring your LSAC account. Consider your thank you note to be one of many ways to maintain contact with individuals who are part of the professional network that you are building.
My final post in this series about submitting an outstanding law school application will focus on addenda to your application, and strategies for dealing with things on your record you may not be proud of and/or application contents that may need some additional explanation.
Have any questions about Letters of Recommendation? Ask me in the comments below or email me at admitme@shu.edu.