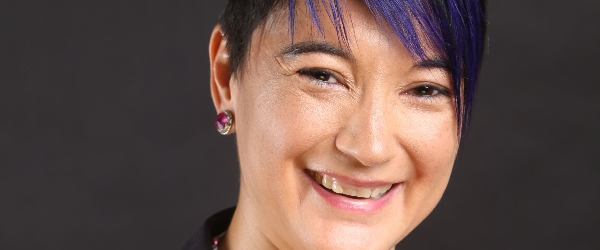 Issa DiSciullo jumped right into her role as Seton Hall Law's Assistant Dean for JD and Graduate Admissions when she took the helm in September 2019. As a national leader in admissions and a recognized expert in diversity and inclusion, she is already making tremendous strides as she commits to providing equal access to education for every prospective student. We asked Dean DiSciullo what she loves about higher education and what she hopes for interested applicants.
Q: You have an extensive background in higher education; what attracts you to the field?
A: I grew up on a small island in the pacific called Saipan, so when it came time for college, I assumed I'd go where everyone else went - the University of Hawaii, Chico State, or University of Washington. However, I was lucky to have a mom who was an academic and pushed me to think beyond the island boundaries and strongly encouraged me to pursue my education on the east coast. It wasn't until then that I realized there were so many other options for colleges and all I needed was that extra push to explore something different.
When I found myself starting my career in admissions and higher education, I wanted to do what my mom did for me. I didn't want to tell students what to do or where to go - rather, I wanted to present them with options - provide them with as much information and resources I could about their choices, so that they could make informed decisions about their college and career choice. Watching them make these discoveries and find themselves at schools whose mission and values they connected with so they are truly able to make an impact both in and out of the classroom is what keeps me in the field!
Q: What do you hope to bring to Seton Hall Law?
A: One of the things I admire about the Seton Hall Law community, and our current Dean, Kathleen Boozang, is our desire to innovate as we respond to the needs of our students, the industry, and community. I hope to be able to add to our entrepreneurial spirit by thinking creatively and innovatively about how and who we recruit to Seton Hall Law. I hope to bring new ideas that build upon our legacy and continue to propel the Law School forward.
Q: If there was one piece of advice you could share with applicants, what would it be?
A: I have so many, I'm not sure I can boil it down to one! I recently attended my new hire orientation at Seton Hall and learned that the University's motto is "Hazard Zet Forward" which translates to "In spite of the hazards, go forward!" That really resonated with me because law school isn't going to be easy, so don't expect the application process to be any different. There are going to be challenges and tough times - maybe it's a less than stellar LSAT score, or a blip in your GPA due to a rough year, or worse, you may not get into the school of your dreams. BUT, if this is something you want, don't let anyone tell you that you can't do it or that you won't make it. It may not come easy – you're going to have to prepare and work for it - and you may have to take a roundabout approach, but regardless of the challenges, press on…because I know you can do this…if you really want it. "Hazard Zet Forward!"
Q: Seton Hall Law offers part-time and full-time JD programs and online MSJ, LLM, and graduate certificate programs. With such a diversified offering, what specific qualities do you look for in applicants for each program?
A: Each of our programs are different, so our student profiles will be different. However, I will say that for all our programs we are looking, first and foremost, to make sure that our candidates have a track record that shows they're ready for the academic rigors of the program. We want to make sure we're setting our students up for success. Beyond that, we're looking for a well-rounded candidate - someone who will be an active and engaged participant both in and out of the classroom; someone who will be an active member of our student body; someone who will be a committed alum and give back to our community in different ways.