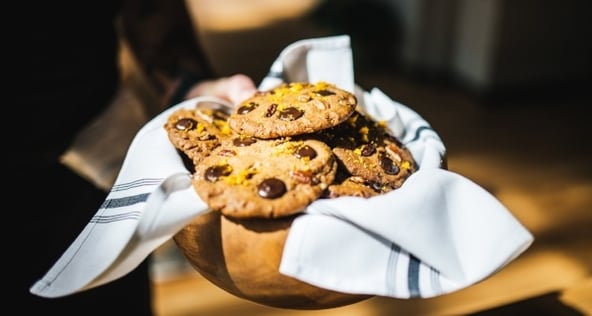 Ever heard of the concept of a "happy accident"? No? Because I like food so much, allow me to reduce it to the place I am most comfortable, the kitchen—where my best metaphors are concocted. Like Chocolate Chip cookies? Me, I love them. However, those delightful little mouthfuls of dough and chocolate were not the product of some great baker who painstakingly mixed dough with chocolate chips and baked them into a chewy, crunchy, brown-edged sweetness that melts in your mouth and which I, along with countless Americans cannot do without. You can take a lot away from me, but deprive me of my chocolate chip cookies and you will find one angry sweet-toothed Assistant Dean. But I digress.
To the contrary, it might surprise you to know that the chocolate chip cookie was not a purposeful recipe but rather was invented by accident. The Huffington Post in a piece by Alison Spiegel reports that in 1930, Ruth Wakefield, who owned a hotel called the Toll House Inn ran out of baker's chocolate when she was baking her very own chocolate cookies. Thinking she could melt some chocolate into her cookie dough she tossed some Nestle's semi-sweet chocolate she had broken into small pieces (chips!) into the batter. Only the pieces (chips!) didn't melt and make the dough all chocolatey---instead they stayed intact and made the dough into fabulous chocolate chip cookies. Thank goodness! And so began America's love affair with the chocolate chip cookie. Now almost 90 years later, the chocolate chip cookie still remains the staple of households, lunch boxes and milk lovers everywhere. Ditto the popsicle (accident!), potato chips (accident!), the Slurpee (big delicious frozen accident!), corn flakes, pink lemonade and so many other things that we love, love, love and were accidents too. Where is this story going and how does this fit into the making of legal careers? Bear with me.
It is said that no one ever succeeds "by accident" especially not in as competitive an environment as the practice of law. That is true. Any good trial lawyer, indeed any good lawyer in any field, will tell you that hard work and determination, long hours, and a total devotion to one's cases and clients are the only way to be successful. I agree with all of that. But, while hard work and a strong work ethic are necessary ingredients for success in the law (along with a healthy sprinkling of personality, strong ethics and an ability to work cooperatively), I also believe that for many who enter the legal profession, their success is also a result of trial and error and luck--- in other words, the product of "happy accidents."
Many students enter law school with their minds set to do one thing and one thing only—become a trial lawyer or a prosecutor, work on real estate transactions, become an expert in mergers and acquisitions, work in a non-profit in a small town. Then life and the universe take over. An internship in a completely different field opens up and that prosecutor-to-be finds that he loved his summer position with a firm that has a huge IP department so so SO much that maybe a few IP classes and a law school concentration will now follow…. and a career too. Not, by the way, as a prosecutor but as an IP lawyer. That future real estate law titan finds that the course in healthcare law--which she took only because it was the one class that fit into her schedule--was so interesting that it leads to a summer spent with a hospital's government relations office or a government agency specializing in Medicare or a law firm representing hospitals. And that too leads to a career…and not in real estate! The student who wanted only to do non-profit work in a small town? He meets a partner at a large law firm in a big city through a mutual family friend at a backyard barbeque. The partner mentors the student over the next year by e-mail and an occasional lunch and through that a career is launched in a completely different place or environment. At a firm. In a big city. With the opportunity for some non-profit pro bono representation. All of these unplanned experiences open up new career pathways…not by design at all but quite by accident.
Many students pursuing their law degree (the majority in fact) often feel a sense of pressure early on, to identify an area of specialty or to somehow immediately zoom in on what they want to do with the rest of their lives. They come into my office sheepishly looking down when I ask if they have a particular interest. They panic when they overhear their peers who seem like they know exactly where they are going and what they will be doing with the rest of their professional lives. I find that self-imposed pressure to be both unnecessary and unproductive to future success as a lawyer. It is better and more likely that those students will find their careers in law through trial and error, through chance encounters with lawyers they meet at networking and other events, and through the classes they will take over their law school careers.
To all of them, I say network and experiment. Take classes in different areas and be open to finding your passion through that process. As the Kitchen Buddha that I am, I say, "be the chocolate chip cookie." The best and most lasting success -- and maybe the sweetest --is the one that comes by "happy accident."