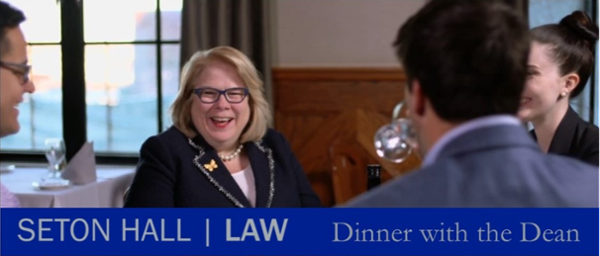 My most recent Dinner with the Dean was incredibly fun and relaxed - the upper-class students and I know each other well by now. The first part of the night we shared about the insecurities caused by the economic divide – the challenges of going to school when you feel you have fewer resources than your classmates. The conversation was actually started because Seton Hall Law is establishing a Food Pantry for students living with food insecurity. And that got us talking about resources for students who don't have a professional wardrobe, for which we also have sources through the Office of Career Services.
It was so cathartic to be able to share about the initial fears of lunch outings at summer jobs because you simply can't afford to dine out every day UNTIL you realize that if you invite the right attorney to lunch, the tab will be taken care of. More challenging are the social events to which you don't know what to wear, or you're not sure what to do – skipping should not be the answer, but I empathize. I shared with the students that the most stressful day of the year is when I have to host the Law School golf outing. Before my first outing, I had a friend walk me through a club, and explain all the etiquette: what to wear, whether to change for dinner, when to tip the people helping with your golf bag. So, OUR solution to this potentially stressful situation was for First-Generation Law Students and I to host an event at Top Golf with a golf pro who will begin the educational process to make everyone feel that they belong – if that's where they want to be. I'm very much looking forward to this.
Most students at the table are currently enrolled or plan to be in a clinic representing live clients. It was wonderful to hear about the anxiety and the excitement of going to court for the first time, or achieving a positive outcome for a client. More entertaining were the students who never again want to practice family law but nonetheless adore Professor Miles who heads our Family Law Clinic. We discussed ideas to make it easier for students with debt to pursue public interest positions, and I promised to ratchet up our efforts to introduce the students to more mentors who have made public interest their careers.
Tremendously fun was planning each other's post-bar exam trips – ranging from Puerto Rico to Greece, with at least one vote for Spain.
Finally, we ended the evening with my most favorite thought experiment – if you were dean of Seton Hall Law School for a week, what would you change? The students' suggestions made me proud to be their dean – I was honest about the couple of things we couldn't accomplish, but overall I am excited to get to work and begin executing admirable ideas from some very thoughtful students.