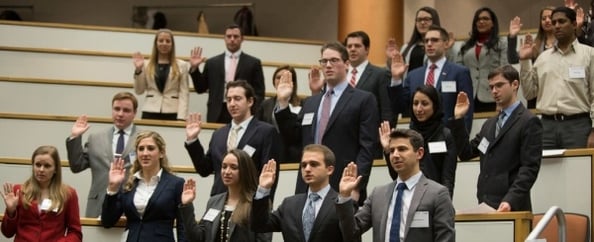 Bar passage is the gateway to practicing law; indeed, outside of Wisconsin, you cannot practice in the United States without it. But the bar exam is being transformed, and prospective students should understand these changes and their implications.
Bar admission across the country increasingly turns on success on the Uniform Bar Exam (UBE), which was recently adopted in New York and New Jersey and now is in use in a majority of other states. Taking the UBE in any state qualifies the applicant for admission to the bar of any other participating state -- so long as the applicant achieves the requisite score in that jurisdiction. In short, the UBE is a major step towards a national bar examination.
While the UBE has a number of similarities to the individual state bars it replaces, there are differences that students should take into account in planning their studies. At Seton Hall, the required curriculum is structured to maximize success on the bar and in practice. But Seton Hall Law School students should also take Criminal Procedure I and Wills, Trusts & Estates before they graduate. Criminal Procedure is tested on both the multiple-choice and essay portions of the UBE, and Estates & Trusts is a common essay topic. While Bar Review courses cover both subjects, more focused study during law school is highly recommended, due to their density and importance of the topics.
Secured Transactions is also commonly tested on the UBE. Therefore, it is wise to take that class or Commercial Law, which includes Secured Transactions. Family Law, while sometimes tested on the UBE essays, appears less frequently than it did on the old New York Bar exam and, as a result, is less of a priority.
In any event, proper preparation and prudent curricular planning will help you succeed on the Uniform Bar Exam. Seton Hall students' high passage rates on both the earlier bar exams and the UBE show that success on this enterprise is well within your grasp!