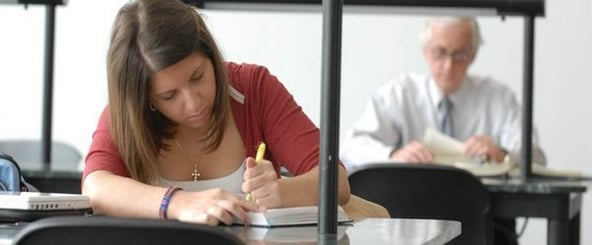 Well, it's that time of year again. With the holiday season comes law school exams, and the anxiety that inevitably comes along with that. It is important, however, not to let stress carry you away. You have worked hard all term. Think of exams not as a trial but as a chance to demonstrate your mastery, to show your professors just how much you know about Contracts, Civil Procedure or whatever else has filled your brain over the last few months.
I'd like to offer a few law school exam tips to guide your efforts as you make that final push to the finish line.
First and foremost, don't get lost in the minutia. Students tend to overwhelm themselves needlessly by focusing on too much detail at the outset. Don't do it. Remember: The detail is what you work towards; it is not a starting point. Always start big, with broad conceptual pieces. Identify the largest constructs first: Contracts, for example, typically starts with offer, acceptance, and consideration.
Next, identify the major principles of law and/or tests that relate to the broad concept you have identified. The cases you have read illustrate these concepts. Understand where the cases fit and why they are important. Remember: The picky facts of each case are not what is most important; you should focus instead on what a case tells you about the bigger picture. It is the bigger picture – the overarching principles of law – that your professor will be testing, and the cases primary role is to help you understand those principles.
Finally, once you have nailed down each conceptual piece, your exam preparation should finish by understanding how the pieces fit together. This is the proverbial icing on the cake. Once it is finished, you are ready to take a slice and dig in!
Well, almost.
Now, take your review of the material to the next level and test your mastery of the concepts by answering old exam questions!
Your professor should have archived exams in the library or online; locate them and try to answer as many questions as you can. If the professor does not have archived exams, ask whether he or she recommends other professors' exams. Do your best to simulate testing conditions -- time yourself (for in-class and self-scheduled exams) and don't refer to your notes if the exam will be closed book. Then review how you did.
For multiple choice questions, identify which ones you got wrong and drill down on why. Was it because you didn't understand the concepts well enough? Was it because you misread the question? Determining why you chose the wrong answer will help focus your further preparation and hone your test-taking techniques.
As for essay questions, did you include a statement of the issue and identify the broad legal concepts the fact pattern implicates? Did you clearly and accurately identify the major principles of law and the legal tests that relate to the broad concept you identified? How thorough is your analysis (that is, your application of the principles and legal tests you identify to the facts you are give)? Be honest with yourself, and review your answers with a critical eye. Share your answers with member of your study group and discuss the analysis.
This simulated law school exam-taking is not only a great way to test your knowledge of the subject matter, it should help to reduce nerves come actual testing day.