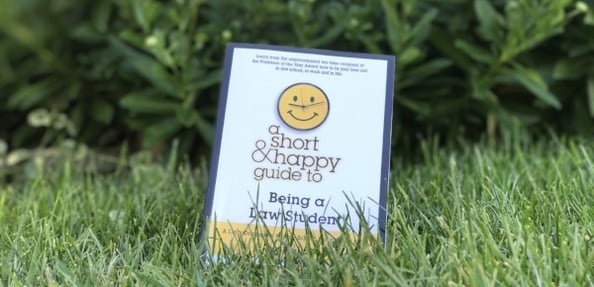 When I started law school, I loved it. But I also worried that law school would be too hard. I worried that I would not be smart enough, that I would not be up to the challenge, and that I didn't belong. I read my assignments too late into the evening and then had trouble falling asleep. What I needed was a little wisdom, some reassurance, and encouragement from someone wise—I needed a book that had not been written yet: A Short & Happy Guide to Being a Law Student by Paula Franzese.
I recommend this book to my students who experience the normal doubts, uncertainty, and stresses that come with a difficult undertaking such as law school. Professor Franzese has written each of the short, readable chapters as if she is talking over coffee with a young person she cares for deeply. In these pages, Professor Franzese does what I try to do in my life—she speaks the truth in love.
As a Lawyering professor, I suggest that my law students consume this Short and Happy Guide one chapter at a time as Professor Franzese hints in the Preface. Read this way, the Guide serves as a perfect buffer between an evening spent reading cases and a restful sleep. It can be a daily course correction reminding you to ask who it is you want to become and what good you can do in the world. It reminds you why we should not measure ourselves against others or against impossible standards.
But I could imagine this Happy Guide could be enjoyed differently, as an antidote to negative thoughts and emotions as they crop up.
Feeling inadequate today? Read "You Are Smart Enough to Be in Law School."
Terrified about tomorrow's oral argument? Read "How to Present a Case, an Oral Argument, or a Speech."
Dreading exams? Here, there are a few chapters to turn to with practical advice. I'd start with, "What to Do Before the End of the Semester."
Tired? Read the anecdote about the conversation between the author and her father the day before she started law school, absorb his loving words, and then follow the simple advice, "GO TO SLEEP!"
Hungry or wanting to bond with your new study group? Try the recipe for penne vodka and savor the story behind its invention.
This spring, in my role as Director of Academic Success at Seton Hall Law School, I witnessed a beautiful moment involving this book. A student I will call Eva* had found comfort, solace, and direction reading the Happy Guide. Eva emailed me one day saying that she had overheard another law student despairing; she wanted me to help her reach out to him. When Eva came to my office, she explained that she did not know the other student well, but after hearing his complaints, stresses, and uncertainties, she knew the Happy Guide would help him. Though Eva lived responsibly on a modest budget as she was putting herself through law school, she had purchased a copy of the book for the young man. Eva asked me to be her accomplice and pass the Happy Guide along to him with words of encouragement. Of course I did.
I aim to do a similar kindness for you. Tap into this excellent resource and realize the fun in watching "others watch you with amazement as they ask, 'But why are you so happy?'" Because you know the secret wisdom shared in the pages of this simple and life-changing book.
*I have changed her name because when I agreed to be her accomplice, I promised to protect her anonymity.