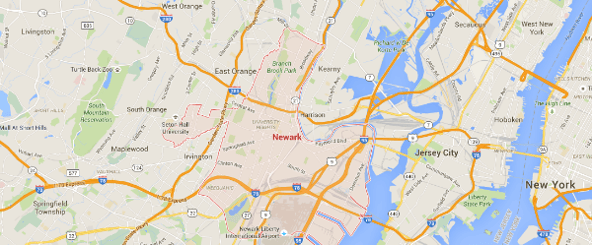 Newark? Yes! Newark!
Whether you work or study in Newark, it is always nice to be introduced to new places to go and things to do. To provide some inspiration for expanding your social horizons – I wanted to share some local favorites of students and faculty. Seton Hall is situated optimally for a stellar social and campus life – so, although it is easy to leave Newark and head to Hoboken, Jersey City and New York City for nightlife and fun – there is also plenty right here in town too!
I'll start with my favorite Newark spots – The Prudential Arena (better known simply as "The Rock") is the host to major concerts, the New Jersey Devils and my preferred sports passion – our very own Seton Hall Pirates. My perfect Newark evening is a winning basketball game preceded by dinner at either Dinosaur BBQ or Tops Diner. Dinosaur BBQ has a cult following after opening some locations downstate from upstate New York a few years ago and Tops Diner is perennially voted one of Jersey's best diners – and, in a state full of diners – that is saying something!
A few blocks away from The Rock you can find yourself in the "Ironbound" section of Newark. An historically residential area of Newark with many Spanish and Portuguese restaurants, the Ironbound offers so many choices – that you can get a different answer from each person you ask for their favorite. Our students and faculty mention Iberia (especially in the spring/summer when there is live music), Mompou (especially in the summer when the patio is open – tapas & sangria – what could be better), Fornos and Spanish Tavern. And, no Newark restaurant list would be complete without mentioning Hobby's Deli – get your deli fix without heading across the river!
And, what about nightlife? Well – Newark is also home to a number of excellent nightlife options. The New Jersey Performing Arts Center (NJPAC) is around the corner from the law school and hosts the NJ Symphony Orchestra, plays, musicals, concerts and a variety of other performances. If you are looking for something a little less highbrow – a number of excellent bars surround our area – Adegas in the Ironbound, McGoverns – the local college hot spot, the rooftop bar at the Hotel Indigo and Bellos are all favorites of the Seton Hall Law School students I surveyed.
---
---
Newark also has a number of hidden and unknown fun spots. In April, the cherry blossoms bloom in Branch Brook Park – 2nd only to Washington, DC in the number of blooms. The Newark Museum offers standing and special exhibits and jazz in the Garden during the summer months. Red Bull stadium is excellent fun for soccer fans and for those wanting to be soccer fans! GlassRoots is a glassworking studio right here in Newark and you can get your sweet tooth satisfied at Sweet Retreat Boutique – just a few blocks from the law school.
You're in New Jersey – so, you may be asking where to get the best pizza. Seems that among our faculty and students there is a split between the traditional Queen's Pizza, the newer - Mercato Tomato Pie and the newest - Blaze Pizza. I'll vote for Blaze – convenient to the Starbucks next door and tasty too! And, while I'm placing votes, I'll give my best burger vote to Burg – in Military Park.
Download the map below to see where all the places mentioned in this post are located! Seton Hall Law is the blue pin, and anything green is in the Ironbound. Where will you go first?