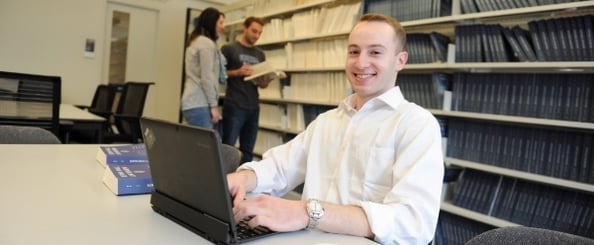 One of the most sought-after credentials for students currently in Law School, is Journal membership. How many Journals a particular Law School may host varies considerably, but Seton Hall Law School is home to only three: The Seton Hall Law Review, Seton Hall Circuit Review, and the Seton Hall Legislative Journal. All three Journals are tremendously prestigious, and the small number ensures that only truly worthy members will be invited to join.
Why is Law School Journal Membership Valuable?
Journal membership is extraordinarily beneficial for numerous reasons, only two of which I will mention here.
First, it will help you tremendously in the job market. Ultimately, the goal of going to Law School is to secure gainful employment, and anything that you can do in the process to distinguish yourself from the rest of the job applicants is critical. Journal membership will immediately add a substantial amount of prominence to your resume. Oftentimes, potential employers who were members of a Journal while they were in Law School, want their employees to have undergone the same experience. Speaking from personal experience, on literally every interview that I have been on, my Journal membership and comment topic were discussed at length.
Second, most importantly, Journal membership will make you a much stronger legal writer. Regardless of what type of lawyer you want to become, be it a commercial litigator or a corporate transactional attorney, the one common denominator between them all is that you will be writing all the time. Any lawyer will tell you that being a strong legal writer has an undeniable correlation to being a successful attorney. Journal membership trains you to become a superior legal writer. This is, in large part, why employers value Journal membership; it almost guarantees a high degree of legal writing acumen.
How Do I Become a Member of a Journal at Seton Hall Law School?
There will be much more information forthcoming on this topic, but essentially, there is a writing competition that interested students can engage in, starting the Saturday morning after finals end, that lasts for about two weeks.
During the Journal competition, interested students obtain a packet consisting of several primary and secondary legal sources. The students will then have to make an argument, using only the given sources, which they will articulate in a paper about ten to twelve pages in length. The Journal Editorial Boards, who will grade these papers, look primarily at how the students frame their arguments, while the legal substance of the argument is not nearly as imperative.
Students will additionally have to complete a BlueBook/legal citation exercise, in which they will attempt to properly "cite" several sources that will be provided to them in the Write-On packet. It's an arcane skill, but one lawyers need to have.
The grading process is done anonymously, which ensures that it is entirely impartial and without prejudice. A few weeks later, successful students will be invited to Journal membership, assuming they meet the GPA minimum and other requirements.
What Will be Expected of Me As the Member of a Journal?
While each Law School Journal has different requirements, I will speak specifically about the Seton Hall Law Review. As an Associate Editor on the Law Review (this is the title given to all students during their first year on the Law Review), a student is primarily expected to write a comment, which is a minimum 25 page legal research paper completed under the auspices of a faculty adviser. Associate Editors have the option of choosing any topic that interests them, and is of contemporary concern. The comment will also receive AWR certification towards the end of the academic year, which is one of the graduation requirements from Seton Hall Law School.
Additionally, via office hours and reading days, Associate Editors will edit the text and footnotes of Professor-written articles, and student-written comments, as they are being prepared for publication in one of the Law Review's four annually printed books.

Overall, being on a Journal is a tremendous privilege, though it is, unquestionably, a serious undertaking. It will require an enormous amount of dedication, and hard-work. The aforementioned benefits of Journal Membership however, far outweigh the responsibilities that it demands.
I want to personally wish all participants in the Write-On competition this summer the very best of luck! Please feel free to reach out via the comments section below with questions, concerns, or anything else that is on your mind related to the Journal competition.
Good Luck!!