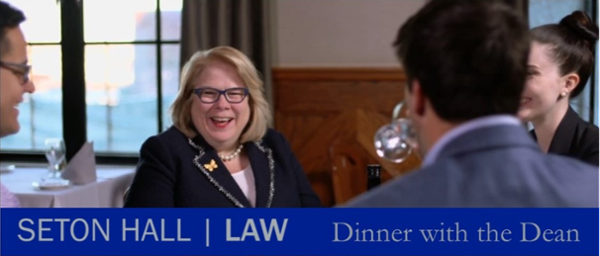 What a fun night I had last week with a One L study group from section A. For those who don't know, the first year class is always divided into sections that stay intact for the entire first year for every class – so essential that everyone gets along! Most One L students join four or five others for a "study group" that helps each other with outlines, exam prep, and general morale. So, this particular group is one of the nicest, most interesting, and eclectic group of people I have had dinner with in some time.
One student is originally from Syria, though his father currently lives in Oman and his mother in Maryland – since the war in Syria he has become a libertarian – skeptical of government, seeking to protect his freedom from government interference. And yet, he is open-minded enough to be close friends with his study partner who is a self-described socialist who majored in Economics at the University of Vermont and served as an AmeriCorps VISTA volunteer – we had a great conversation about whether Medicaid should pay for housing. This section A study group is rounded out by a woman from South Carolina (who took her Syrian classmate home to experience his first US Thanksgiving) and a New Jersey native with a Master's Degree in Political Science who works for his father's construction company during summers.
This is the first group of law students who came prepared with a list of questions for me. It seems like we talked about everything under the sun, from whether people are inherently good (or not), to whether it's important to have a legal job in the summer after One L. Part of the question about "goodness" really arose from concerns about whether lawyers sometimes represent bad guys – whether it be the industry in which they work, or the way they do business. While I believe that greed can lead some people down the wrong path, I think that most people want to live good and honorable lives, and that while people made mistakes, most clients are good people.
As to how to spend the One L summer, I say do whatever you want – for many students, making money or taking a break from the law is important – employers love to hire people who have worked hard at anything, especially in the service industry. For those who want to attain legal experience, trying out for a journal, interning for a judge, and taking a summer school course can be a great combination of experiences. Serving as a research assistant to a professor (which is compensated) is a fabulous opportunity that pays dividends for many years in the future.
We also talked about whether it's ok to use your law degree for something other than practicing law – and I say absolutely. I think that a law school education provides a skill set that is invaluable in any number of contexts other than being a lawyer. A career should be about finding your passion, living your dream, and making enough money to be comfortable.
I felt so good when at the end of the dinner I asked for consent to write this blog post, each student said they would love to talk to prospective students to tell them how great our law school is. These students are generous, excited about their futures, and more interesting than I could have imagined. It was a great night.
---
To read more about Dean Boozang's dinner with One L's follow her on LinkedIn.