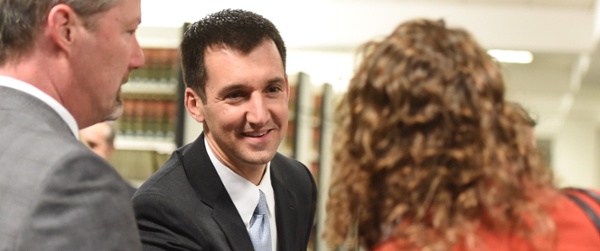 I'm thrilled to have joined Seton Hall Law's faculty full-time in January 2019 after 11 years as an Assistant U.S. Attorney. My hope is that my background will provide a unique opportunity for students to learn not only about the key statutes and case law relating to the various classes I teach, but also to gain insight into life as a practicing lawyer.
As an AUSA, I served as Chief for five years of the U.S. Attorney's Office for the District of New Jersey's Health Care & Government Fraud Unit – one of the largest and most impactful health care fraud units in the country – where I prosecuted some of the nation's largest health care fraud matters. Now, I take those experiences and apply them to the classroom. In my Health Care Fraud & Corruption seminar, which introduces students to the market triggers that cause corruption in its various forms, the harms to various economies caused by corruption, and mechanisms that address corrupt behavior, I regularly provide students with real world examples to bring the statutes and regulations to life. By the end of the seminar, students are equipped to analyze situations involving potential health care fraud and understand not only what statutes might be implicated, but also which regulators are likely to be involved and what factors might impact an investigation and potential resolution.
I will also be putting to use my experience as a trial lawyer as I teach Evidence. Handling more than 10 jury trials – on charges ranging from bank robbery to complex fraud and money laundering – required me to understand the Rules of Evidence and how they are used in practice, and will allow me to provide my students a first-hand account of the concepts they will master as they prepare to take on their own cases after graduation.
I'm also currently developing a course focused on Data Analytics – a passion of mine from my time at the U.S. Attorney's Office, where I launched a Data Mining Working Group and spearheaded the Office's efforts to utilize data analytics to identify, investigate, and prosecute health care fraud offenses. Today, data and technology impact all aspects of the law, and I look forward to preparing Seton Hall Law students to be leaders in this emerging area.
While I have enjoyed the opportunity to teach and train Assistant U.S. Attorneys from around the country, for me there is nothing that compares to the chance to educate prospective lawyers.
Read Professor Elberg's recent article highlighting the need for a detailed structure for calculations in FCA settlements.